In Arizona, New Mexico und Texas sind Staubstürme, auch Habub genannt, im Sommer nicht ungewöhnlich. Allerdings treten diese im Normalfall nicht in der Größe und Intensität auf, wie diese Woche in Arizona beobachtet wurde.
WOW!!! Jaw-dropping #HABOOB crippling traffic along I-8 in southwest Arizona now west of mile marker 90. One of the most incredible sights I have ever witnessed @breakingweather @accuweather @mad_WX #duststormwarning pic.twitter.com/qgXHAVGAAf

— Reed Timmer (@ReedTimmerAccu) 10. Juli 2018
Mit dem Staubsturm wurde Windgeschwindigkeiten von 90 bis 120 km/h registriert und er zog über 400 km weit bevor er sich allmählich abschwächte.
Entstehung von Staubstürmen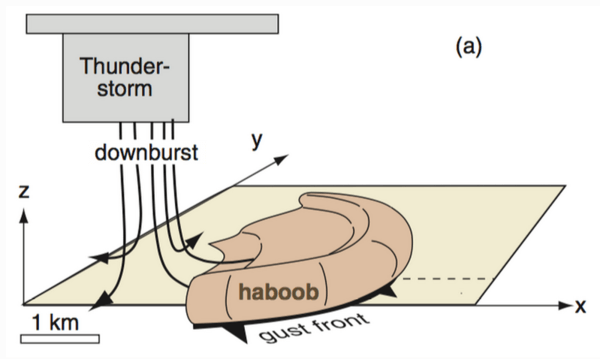 Ein großer Gewitterkomplex entsteht, durch Regen und Verdunstung entwickelt sich ein Kaltluftpool, der dann bodenah ausströmt. In den Wüstengebieten kann das zu Staubstürmen führen.
Massive dust storm swallowing the Mohawk Mountains in SW Arizona at sunset on 7-9. Just an incredible sight! #azwx #StormHour pic.twitter.com/K2Dx41XYli

— John Sirlin (@SirlinJohn) 13. Juli 2018
WOW! Dust storm seen this past Monday in Arizona. Photo credit: Tina Wright. https://t.co/KpPtTojOfw #DustStorm #AZwx pic.twitter.com/H2HYlfGpCx

— Mark Tarello (@mark_tarello) 14. Juli 2018
Hier noch ein Radarloop von einer Outflow Boundary (Grenze zwischen warmer Umgebungsluft und kältere Gewitterluft), die sich nach Gewitterbildung ringförmig ausbreitet:
Check out the cluster of storms from the high resolution Terminal Doppler Weather Radar (TDWR) in Southaven. You can see the converging air prior to convective initiation followed by a downburst. Low ambient wind shear leads to the near perfect symmetry of the outflow. pic.twitter.com/GzU4ON9NNS

— NWS Memphis (@NWSMemphis) 12. Juli 2018