Ein Airbus-Passagierflug der American Airlines mit Route von San Antonio nach Phoenix ist Sonntagnacht über New Mexiko in ein heftiges Gewitter geraten. Das Flugzeug ist dabei unmittelbar durch den Kern der Gewitterzelle geflogen und wurde dabei durch große Hagelkörner massiv beschädigt.
Pictures of what hail did to American Airlines jet before safe emergency landing in El Paso. Windshields shattered, nose ripped apart. 5 crew not hurt as they safely landed with 130 passengers on way to Phoenix from San Antonio. I'm sure it sounded bad too. Wow @FOX29philly pic.twitter.com/pDZBxWWlcS

— Steve Keeley (@KeeleyFox29) 4. Juni 2018
Der Pilot musste eine Notlandung in El Paso in Texas durchführen, dabei kam keiner der 130 Passagiere bzw. 5 Besatzungsmitglieder zu Schaden. Die Gewitter waren allerdings äußert kräftig, so gab es in dem Bereich, wo das Flugzeug durch das Gewitter geflogen ist, Hagelmeldungen in der Größe von Tennisbällen. Bei der Überlagerung von Wetterradardaten und Flugzeugposition erkennt man eindrücklich, wie das Flugzeug quer durch den Hauptaufwind geflogen ist.
Plot of locations (from log at https://t.co/Fl9aKcLmem) of #AA1897 flight, which encountered hail and severe turbulence https://t.co/OAHI5qSmD6 last night, on radar imagery and a 3-D view of the hail core pic.twitter.com/3E3Dg9Z8Wv

— Stu Ostro (@StuOstro) 4. Juni 2018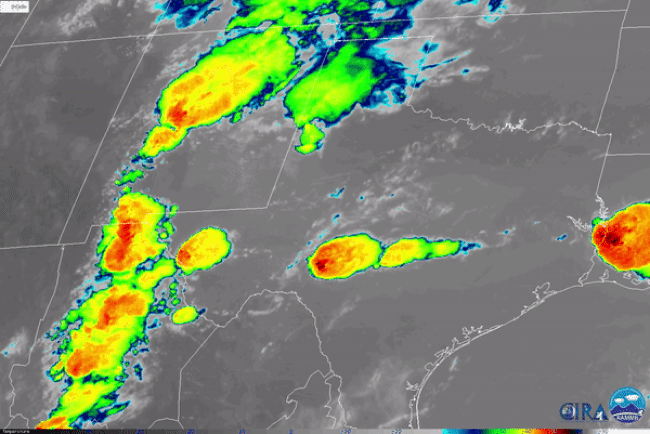 American Airlines Airbus A319 (N806AW) on flight #AA1897 from San Antonio to Phoenix diverted to El Paso after it encountered severe weather. Hailstones shattered windshields and demolished the nosecone. 130 pax + 5 crew safe. https://t.co/XWgYZuY2dn pic.twitter.com/ypbUJEgixL

— JACDEC (@JacdecNew) 4. Juni 2018