Derecho
Der Begriff beschreibt ein besonders verheerendes Gewittersystem, welches mindestens auf einer Länge von 400 km wiederholt und gemessen Windböen über 93 km/h produziert. Die Meldungen, die an den amerikanischen Wetterdienst übermittelt wurden, lassen erkennen das das Kriterium in diesem Fall übererfüllt wurde. Dabei wurde an einer Station eine Böe von 107 mph = 172 km/h gemessen. Aber auch sonst traten verbreitet Orkanböen auf, welche als schwarze Kästen dargestellt sind.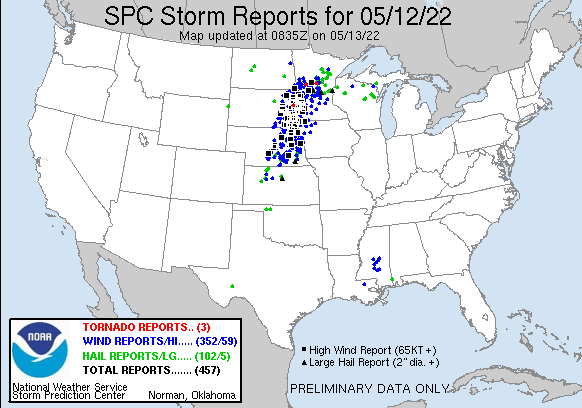 Wie auf den unten stehenden Bilder zu erkennen ist, gab es verbreitet Schäden an Gebäuden, teilweise wurden LKW von den Straßen geweht. Zudem trat in South Dakota mit dem Gewitter ein Staubsturm Haboob genannt auf. Hier ist es trocken und die Felder sind noch nicht ausreichend bewachsen mit z.B. Mais, sodass der Wind einfach viel Staub aufwirbeln kann. Zudem kam es zu vielen Stromausfällen, weil Strommasten umgeweht wurden.
Here's the #derecho from its start nearly to right now, producing a load of wind reports & dozens over 75mph throughout the Upper Midwest. #NDwx #SDwx #MNwx #IAwx #NEwx #severewx pic.twitter.com/G1wbBM0szW

— Vortix ♦️CODE RED♦️ (@VortixWx) May 13, 2022
Der Radarfilm im Tweet zeigt die Entwicklung des Derecho sehr eindrucksvoll.
Impressionen
Before and after photos of the haboob rolling through I-90 between Sioux Falls and Hartford, South Dakota. Dust caused blackout conditions at 4:55 PM.
Shared by Jeff Van Horn.#SDwx pic.twitter.com/IvmN4SYX50

— James Scott WCCB (@JamesWCCB) May 13, 2022
Crazy haboob with the bow echo that plowed through White and Brookings, SD this afternoon. Lots of damage! #sdwx pic.twitter.com/iC5Xaeqx93

— Epic Weather🌪 (@WeatherEpic) May 13, 2022
Multiple high-profile-vehicles have blown over in Southeastern SD – six of them currently blocking I90 between mile marker 364 and 379 near Montrose. A detour has been set up while trucks are cleared from the road. #Sdwx #KeepSDsafe pic.twitter.com/JL7R0dTgBi

— SDPublicSafety (@SDPublicSafety) May 13, 2022
Power Outages by County per @PowerOutage_us this hour:

Miner, SD: 92% OUT
Lac Qui Parle, MN: 92% OUT
Beadle, SD: 87% OUT
Stevens, MN: 86% OUT
Kingsbury, SD: 85% OUT#sdwx #mnwx pic.twitter.com/tMdXMKP9jA

— Jesse Ferrell (AccuWeather) (@WeatherMatrix) May 13, 2022
Farm damage west of Summit

📸Cheri Zirbel@NWSAberdeen #sdwx pic.twitter.com/ktG2gaG3Sk

— Brent Nathaniel (@brentnathaniel) May 13, 2022
Titelbild: https://twitter.com/GoBarSouth23/status/1524886782046789636/photo/1