Schwere Regenfälle bedrohen derzeit die Küstenregionen im Südosten Australiens rund um die Hauptstadt Sydney. Im Bundesstaat New South Wales sind in den letzten 24 Stunden stellenweise über 200 Liter pro Quadratmeter gefallen, in Sydney etwa 140 Liter .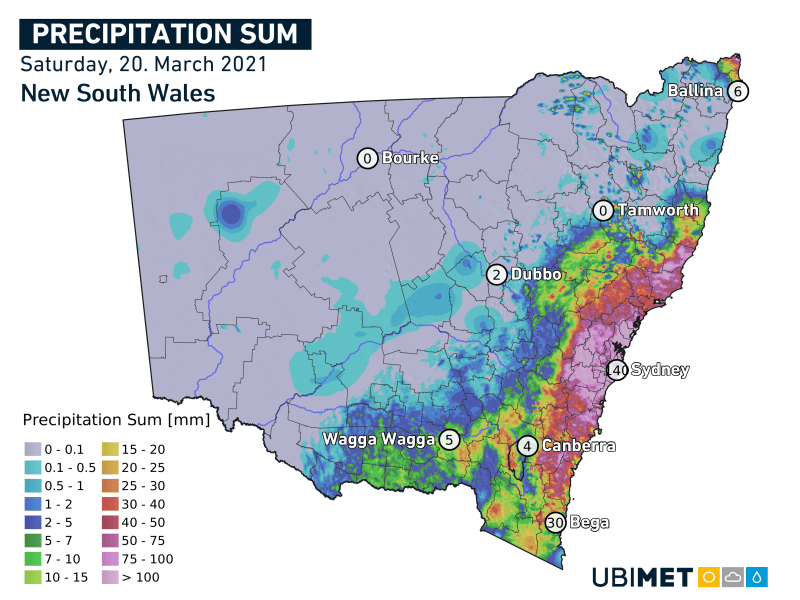 Die enormen Wassermassen haben verbreitet für Überschwemmungen gesorgt und das Aussehen ganzer Landstriche verändert. Diese Satellitenbilder zeigen den Vorher-Nachher Vergleich für zwei, am stärksten betroffene Regionen nördlich von Sydney.
Before/after imagery showing the latest inundation in the Mid North Coast #NSW

– #Taree
– #PortMacquarie

– Latest imagery this morning: 06:07:20 AEDT, 2021-03-20
– Previous imagery: 06:06:55 AEDT, 2021-03-08
– Image source: sentinel-1 @CopernicusEU @sentinel_hub pic.twitter.com/sdjjpDv520

— BigData Earth (@BigDataEarth) March 20, 2021
Zahlreiche Flüsse sind in der Region über ihre Ufer getreten und nehmen alles, was ihnen im Weg steht – sogar ganze Häuser, wie dieses Video zeigt.
Thinking of all our family and friends back home 😘 #taree #myhometown https://t.co/CQoJlPbDc2

— Katie Hardyman (@katiehardyman) March 20, 2021
Flood waters in Port Macquarie are creating hazards for locals as large parts of NSW continue to be impacted by Heavy Rainfall. Stay on top of all the warnings here: https://t.co/Ss766fadjj
This video shot and provided by: https://t.co/h9leanQN1v pic.twitter.com/a3qm1i8lJX

— Bureau of Meteorology, New South Wales (@BOM_NSW) March 20, 2021
Der Warragamba- Staudamm etwa 65 km westlich von Sydney, das wichtigste Reservoir für die Wasserversorgung der Stadt, konnte das erste mal seit 30 Jahren die Wassermassen nicht aufnehmen und begann heute überzulaufen.
Any minutes now Warragamba Dam will start to spill flood water, with the first substantial flood water release since about 1990! (https://t.co/1zkfEuhk7F) https://t.co/bqlpqSHf9c pic.twitter.com/32s3ekFqEa

— Ian Wright (@drianwright) March 20, 2021
Warragamba dam has started to spill. With heavy rainfall persisting, we are also expecting to see spills at Nepean, Cataract, Cordeaux and Avon dams.
For weather forecasts and flood warnings, visit https://t.co/2GW553xMtn
For emergency information, visit https://t.co/7v9ukIZgQB pic.twitter.com/eainGUuCaw

— WaterNSW (@WaterNSW) March 20, 2021
Auch in den kommenden Tagen muss in der Region mit weiteren schweren Regenfällen gerechnet werden, eine Entspannung der Lage ist erst ab etwa Dienstag zu erwarten.
Titelbild: Weite Landstriche unter Wasser, Fluss Taree, NSW. Quelle: 7news.com.au